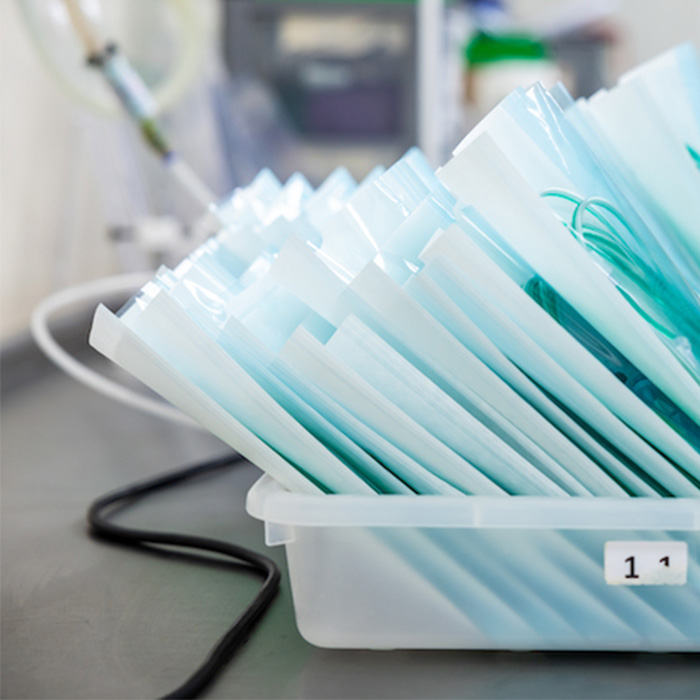 In addition to extensive clean room facilities, Meridian Medical is also able to manage medical sterilisation processes for healthcare providers looking for a medical devices company that can deliver at every stage of the manufacturing process.
Sterilisation of medical devices
The final stage of production for most medical equipment companies is the sterilisation cycle. Meridian Medical has vast experience of Ethylene oxide (EtO) sterilisation procedures and the team can advise you on the most cost-effective solutions to validate your medical devices.
You can benefit from the use of our validated mixed load cycle for EtO sterilisation processes in order to make it as cost effective as possible.
There is also a dedicated medical device transport facility available to deliver and collect sterilised medical equipment ensuring a quick, cost efficient and reliable service.
All Meridian Medical sterilisation services are fully certified and each batch of medical products is released from the site with a certificate unique to the batch.
As part of the medical products sterilisation process, we can also manage gamma sterilisation, in situations where EtO sterilisation may not be appropriate, such as high EtO residual, gas traps, or foil packaging.
Meridian Medical's areas of sterile device expertise include:
IV Management
Drug Delivery
Paediatric & Neonatal Critical Care
Urology
Anaesthesia
Orthopaedic Device Development
General Surgical Device and Accessory Development
Full device project management